Tools
From Data Realms Wiki
Tools are a group for trigger operated devices that don't fire ranged projectiles. Mining, construction, scanning-- basically, if it isn't a gun or a bomb (or a shield), it's a Tool.
It should be noted that Diggers are designed for mining, some bunker breaching, but are frequently repurposed for melee-range combat. Some Tools play more esoteric villains, but most lead peaceful lives of exploration, utility, and mild accessory to murder.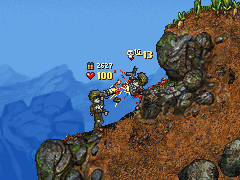 Diggers
Each digger has a respective weight: the Light, Medium, and Heavy digger. The heavier the digger, the more powerful it is.
Light Digger

The Light Digger is, as its name suggests, is the lightest of the Diggers. It somewhat resembles a handgun or pistol with a slightly extended barrel. It can dig through dirt, inner walls and flesh at an average rate, similar to a DustBuster. You can hold the Light Digger and your Jet power is relatively unaffected. Some enemies spawn with the light digger.
Medium Digger

Concrete steadily falls to a Medium Digger, but metal takes time to eat through. Enemies, however, die almost instantly.
Heavy Digger

The Heavy Digger is so powerful that lighter actors will be unable to move or jetpack in the direction they are digging in. A bonus for these light actors, however, is that the Heavy Digger can act as a parachute when falling.
Turbo Digger

The Turbo Digger is nearly as powerful as the Heavy Digger but exhausts its magazine quickly.
Pulse Digger

Meant for melee and mining, the Pulse Digger can be used with a shield but can't cut through stone, concrete, and especially not metal-- just enemies and dirt.
Chainsaw

Not the most effective digger, it can cut through even metal but has a short running time and considerable reload. It will take a long time to get anywhere, but you won't have paid much to get there.
Shovel

Despite the hype, the Shovel is worth the price. It can dig through concrete, and provides a wide digging sweep, and has infinite ammo. But it digs very slowly, one pulse at a time.
Sprayers
Sprayers spray out a stream of a certain material, they are considered the opposite of diggers.
Concrete Sprayer

Concrete will not stick to or bury enemy Actors and yet concrete spraying will draw enemy fire. Unfortunately it tends to build ramps pointed away from you more than bridges or walls, and not always fast. It's best used for patching your bunker and sealing in your brain case.
Repeller Gun

Repeller blasts interestingly pass through barriers, proving a rare ability to strike with no exposure, but they inflict no harm. They can push around light infantry, but opponents recover before you can switch to a weapon, and it's unlikely you can ready a Repeller Gun before a thrown grenade reaches you. However, it does make a strong, long lasting, hand-held jetpack!
Remote Explosives
There are no longer multiple colors of C4; they are automatically identified with the team that set them. There are also disarmers for any remote explosive or mine, effective within a limited radius.
Detonator

Works instantaneously, and can be used with a shield. You might want to; your own Remote Explosives don't obey the "no friendly-fire" rule and will destroy anything they can.
Disarmer
Scanners
Cut through the fog-of-war in a wide angle and limited distance wherever you point the scanner. Works similar to an ultrasound wand, except for finding impregnable fortresses.
Light Scanner

Medium Scanner

Heavy Scanner

Other Tools
These tools are the more unique offerings and don't fit into other categories.
Grapple Gun

Bionic Commando for Cortex Command. Does not grapple enemies. Has decent range, and grapple remains in effect when switching to another device. Useful for reaching and staying in remote positions, especially if too heavy to fly.

Shielder
Removed in Build 27. Data files still present.


The Shielder creates a tall, thin, rectangular wall that cannot be destroyed. Unfortunately, these shields disappear after a few seconds, so you'll want to make as much out of them as you can before it goes away. It's useful if you need to buy some time, or beat a retreat without being shot from behind.
Nanolyzer
<in development>